Votiva – A Breakthrough in Feminine Care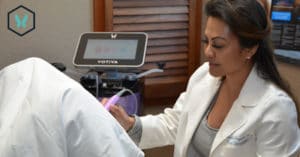 Women experience many physical changes over a lifetime including childbirth, menopause and aging. All too often, these life events can have inconvenient or even painful effects such as  urinary incontinence, vaginal dryness and decreased sexual sensitivity. These topics are finally gaining awareness and more treatments are becoming available. One such option physicians are discussing with their patients is Votiva, a non surgical vaginal rejuvenation. Some practices even offer free events where you can learn more about the procedure in a relaxed setting.
What is Votiva?
Votiva is a non-surgical, FDA-approved technology that addresses a variety of feminine wellness concerns. This cutting-edge procedure uses two handheld devices – Forma V and Fractora V – on the outer and inner areas of the vagina to resurface the skin and stimulate elastin and collagen production. Rejuvenating the vaginal tissue tightens the skin and can improve vaginal laxity, stress urinary incontinence, vaginal lubrication, sensation and muscle tone. Votiva improves blood flow and sensitivity as well as elasticity and wrinkles on the labia and vulva. Treatments are quick with little to no downtime. Visage Dermatology is excited to now offer this noninvasive treatment to improve our patients' feminine health and quality of life.
What is the treatment like?
Votiva takes place in the comfort of your doctor's office. Prior to beginning the procedure, a topical numbing cream is applied to the areas to be treated to ensure you remain relaxed and pain-free throughout the procedure. Votiva employs uniform radiofrequency heating to improve elastin and collagen to the areas of concern. You can expect to feel a warm sensation during treatment and may experience moderate discomfort. The number of treatment sessions depends on the individual patient and is typically 3 monthly sessions, 4 weeks apart. Most patients are able to resume normal activity that same day. Be sure to discuss your individual self-care needs with your doctor.
What results can I expect?
The Votiva treatment will target the issue(s) you've discussed with your doctor. It can help alleviate urinary incontinence, sexual discomfort, vaginal irritation and cosmetic concerns. Positive outcomes can be felt and seen immediately with continuing effects over the long-term. Patients will notice visible results with the skin tightening and collagen production including fewer wrinkles, less dryness and irritation. Each individual's results may vary with some reporting improvements the same day and most noticing change by the second treatment. Full benefits may take a few weeks, improvements can continue for up to three months post-treatment and benefits continue over time.
How do I know if Votiva is right for me?
Whether you are experiencing symptoms of perimenopause or menopause, want to remedy painful or inconvenient after-effects of childbirth or simply want to feel like yourself again, Votiva can have a positive impact on your feminine health and quality of life. Enjoy activities again with comfort and ease again with Votiva. You now have an option that is non-invasive and effective as well as quick and comfortable. If you're still wondering if Votiva is right for you, take our short quiz or give us a call today to schedule a consultation.