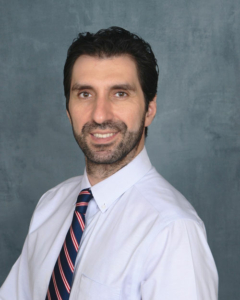 Dr. Sergey Arutyunyan is a Dermatologist and Mohs Surgeon. He earned his medical degree from Nova Southeastern University College of Osteopathic Medicine in Fort Lauderdale, Florida. While in medical school, Dr. Arutyunyan was named 2015-2016 East Florida Physicians Alliance Scholar for his outstanding academic and research achievements. He was also inducted into Sigma Sigma Phi National Osteopathic Medicine Honors Fraternity. Furthermore, while at NSU, Dr. Arutyunyan was selected to serve as NSU COM research fellow, a prestigious opportunity allowing him to serve as Principal and Co-Principal Investigator for several research studies. As a medical student, he also received NSU Health Professions Division Research Grant, an accolade usually reserved for faculty led research.
After medical school, Dr. Arutyunyan completed his Internship at Larkin Community Hospital in Miami, FL where he received "Intern of the Year" award. He then went to complete Dermatology and Cutaneous Surgery Residency at Larkin Community Hospital where he served as a Chief Resident. He then pursued a fellowship in Mohs Surgery at the Skin Institute of South Florida under the mentorship of Dr. Eli Saleeby and a fellowship in Cosmetic Dermatologic Surgery at Hollywood Dermatology and Cosmetic Surgery Specialists under the mentorship of Dr. Eduardo Weiss. During the fellowships, Dr. Arutyunyan performed over a thousand cases of Mohs Micrographic Surgery and reconstructions. As well, Dr. Arutyunyan received advanced training in numerous cosmetic procedures such as Botox, Dysport, Fillers (Restylane, Juviderm, Radiesse, Sculptra, Belotero, and many others), platelet-rich-plasma, as well as Lasers.
Dr. Arutyunyan presented at local and national meetings and published his work in peer-reviewed journals. His research work on skin cancer prevention has received significant media attention and was covered by media outlets such as Yahoo, VICE News, and Healthline News. Dr. Arutyunyan has also presented his work at Cosmetic Surgery Forum and American Society for Dermatologic Surgery Conferences.
Dr. Arutyunyan is a Member of American Academy of Dermatology and American Society for Dermatologic Surgery.