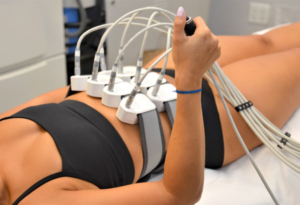 What is EVOLVE TITE?
Evolve Tite is an innovative non-invasive skin remodeling procedure that tightens loose skin to create a more youthful look.
Evolve Tite can reduce the unsightly appearance of imperfections such as sagging skin and cellulite to improve your overall body shape. The benefit is that Evolve Tite is a non- surgical procedure meaning there are no needles or scalpels or a long recovery time. Treatment are customized to your individual concerns and can address a single area, or multiple zones, depending on your skin tightening goals.
How does EVOLVE TITE work?
Evolve Tite is a safe and effective procedure and the newest treatment in aesthetics for improving and refining the appearance of aging skin. Evolve Tite targets tissue deep below the skins surface with the use of radio-frequency technology to stimulate collagen production.
How safe is the treatment?
Evolve Tite is recommended for individuals who are looking for a non-invasive skin treatment to address specific areas that require contraction. Tite can be used to reduce texture irregularities in lax skin and provide a natural firmer appearance. It is a very safe and effective procedure that can be used on all skin types and skin tones. Evolve Tite is designed with a Patient Call Button so you can easily pause your treatment at any time and have clinic staff make adjustments to ensure your comfort.
Frequently Asked Questions About Evolve Tite
WHAT AREAS OF THE BODY CAN EVOLVE TITE TREAT?
Abdomen
Lower back
Arms
Legs
WHAT ARE THE BENEFITS OF EVOLVE TITE?
Non-surgical- Reduce cellulite- Improve body shape and texture  -No downtime –Can be used on all skin types –Painless- Short treatment time- Treatments completed over the lunch hour – No needles, scalpels or stitches
DOES THE EVOLVE TREATMENT HURT?
Evolve Tite is not painful, When it comes to tolerating pain, everyone is a bit different. During your treatment you can expect a warming sensation of the target area. This warming sensation is similar to a hot stone massage or heating pad.
HOW MANY SESSIONS ARE REQUIRED?
The number of treatment that you may need will depend on your skins laxity, It is recommended that patients receive 6-8 treatments depending on the body area being treated and the individual patient's skin laxity. Treatments are completed weekly and take 30-60 minutes.
Gradual improvements in the treatment area can be seen following the first few treatments. As the radio-frequency penetrates the tissue layers patients typically notice a reduction of lax skin leading to a smoother contour of the body. Textural irregularities will even out and sagging skin will appear more toned.
Our Cosmetic Consultant will meet with you to discuss your skin rejuvenation goals and develop your customized plan, so you know what to expect every step of the way.
WHAT KIND OF POST PROCEDURE CARE IS REQUIRED?
There is absolutely no recovery period or downtime associated with Evolve Tite. It is a quick and painless treatment that can be done over your lunchtime, allowing you to return to your normal activities immediately. Patients will notice some redness and warmth in the treated are which will subside own its own within a couple of hours.
COME JOIN US FOR THE EVOLVE EVENT!
Wednesday 2-2-22 at 2pm or 4pm
Evolve Tite Before and After Results