Votiva – Non-Surgical Vaginal Rejuvenation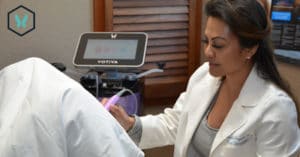 As women age, their bodies experience many changes from a loss in collagen and elastin to physical changes associated with childbirth. Votiva is a cutting-edge technology that enhances tightness, muscle tone, and external appearance while effectively treating common issues such as stress incontinence, dryness and discomfort during intercourse. Previously, women did not have many options to improve intimate issues that occur from childbirth or aging. Now, Votiva offers solutions that address internal and external vaginal health concerns, with clinically proven feminine wellness technologies. Votiva offers immediate results, with continued improvements over time. Votiva is safe and effective treatment and is quick and comfortable.
Votiva offers a non-invasive, FDA approved technology to address a variety of Feminine Wellness
Do you notice vaginal discomfort?
Are you experiencing urinary problems?
Are you experiencing menopause or perimenopause symptoms? Suffer from low estrogen?
Do your symptoms affect: sleep, activity, athletics, travel and social activities?
Would you like to be able to have sexual relations without discomfort?
Are you experiencing dryness, itching, discharge, odor, irritation, tenderness?
Contact us today at 728-388-6982 Ext 301 or 302 to schedule your Consultation and find out if Votiva is right for you.
Frequently Asked Questions
What can I expect?
Before beginning treatment, we will apply a topical numbing cream the areas to be treated to ensure you remain comfortable throughout the procedure, although you may experience moderate discomfort. You may also take Tylenol 650 mg 2 hours prior to treatment.
Patients can expect to feel a heating sensation during treatment. Results can be felt and seen immediately, with continued results over the following weeks or multiple treatments.
Benefits of Fractora Skin Resurfacing
Aging is a natural process that many patients wish to reverse. However, for one reason or another – be it cost or the commitment to recovery, some are unable to undergo surgical methods to regain that youthful look.
Now, with Fractora you can look years younger, and have a healthy glow to your skin with these benefits:
Tighter skin
Youthful glow
Phenomenal results without surgery
Smooth, clear complexion
Reduction of acne scars and indentations
Reduction in sun damage
Reduction in fine lines and wrinkles
Reduction of skin pigmentation and vessels
Quite possibly the best benefit of this procedure is that it is completely noninvasive.
What are the risks associated with Fractora?
As with any treatment, following proper post care instructions is essential to minimize any risks associated with your procedure.
Even with laser skin resurfacing, there are potential risks and side effects which include:
Redness
Swelling
Post inflammatory hyper pigmentation
Poor or slow healing
However, keep in mind that by undergoing skin resurfacing with Fractora, you are receiving a treatment that is much more advanced than traditional skin resurfacing lasers. It is even safe and effective for ethnic skin.
How many treatments will I need?
The number of treatments you will need to achieve desired results will vary, depending on your skin condition. However, most patients receive benefits of Fractora within one to six sessions. Visible results may be seen immediately, although improvements continue up to three months post-treatment.
Treatment schedule?
The number of treatment sessions depends on the individual patient and is typically 3 monthly sessions, 4 weeks apart.
What is the downtime?
Depending on the intensity of the treatment, there is little to no downtime. Most patients may have slight discomfort during and immediately after treatment. Some patients will experience no discomfort at all. Your physician will determine the number of treatments right for you. The majority of patients have 2-3 sessions, however, most notice a difference after only 1 treatment.
Great Day Live Segment with Dr. Kongsiri