VersaLift® Firming Neck Cream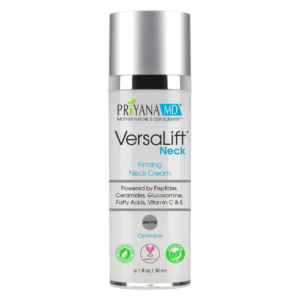 VersaLift Neck Cream is a breakthrough in anti aging skincare and a tighten neck skin cream with proprietary moisture-locking technology to reduce the appearance of aging skin.
No matter how much care you try to take off your skin. The delicate skin around our neck needs the most attention and care, and we all mostly forget to pamper that part of our skin. We only start noticing it when there are sagging skin and the occurrence of fine lines and wrinkles in the area around your neck. No one can escape the fact that we all age and develop sagging and signs of aging around our neck. This is the point where we all should be looking for the best cream for saggy neck or skin tightening cream for neck available in the market.
VersaLift is the best selling neck cream when you are starting to notice sagging. This best neck cream for sagging skin is formulated with antioxidant moisturizer, which is enriched with peptides, retinol, vitamins, and a clinically tested ingredient called Rubixyl, signaling to opioid receptors in the skin. If you are looking for best neck cream for sagging skin, then look no further! This is your go-to tighten neck skin cream. It is developed specifically for the delicate and fragile neck, and décolletage, this potent firming and exfoliating treatment helps correct the telltale signs of premature aging and UV overexposure.
Let us talk about the essential ingredients present in this best cream for sagging neck:
It has collagen peptides, hyaluronic acid, apple stem cell, Lipo-Amino acid. The ingredients present in this best selling neck cream help in repairing and hydrating the skin instantly while decreasing fine lines, wrinkles, and reducing the sagging neck appearance at the same time. It will give your skin immediate firmness, and beautiful, youthful freshness. Collagen Peptides and Hyaluronic Acid revitalizes the skin while the peptides act as signaling molecules to repair and stimulate collagen. The fast-absorbing cream encourages a very strong, supportive network to lift away years, restoring youthful tone and definition to the neckline. A small amount of retinol gently exfoliates to diminish the appearance of uneven pigment and dark spots from aging and the harmful UV rays. The Apple Stem Cell Extract helps to preserve healthy skin cells for a skin that looks and behaves years younger. Lipo-Amino Acid helps to target collagen and to promote GAG's (Glucosamine), a component of skin's natural filler, help in building the underlying support matrix, plumping and lifting slack, lined skin. Glycosaminoglycans, also known as GAGs, are polysaccharides that are naturally present in the dermis of the skin as natural moisture factors that bind nearly 1000 times their weight in water. The most famously known GAGs are dermatan sulfate and hyaluronic acid.
Benefits Of Using VersaLift Firming Neck Cream
This is the best anti sagging neck cream designed to smooth, tone and restore elasticity to the skin.
A formula enriched with moisture drawing Hyaluronic acid to help hydrate the skin's intercellular reservoir, raising its moisture levels, and smoothing down age lines in the neck.