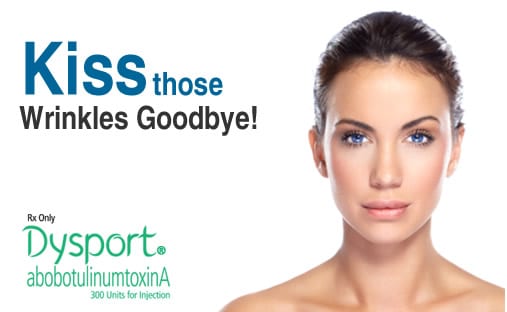 Get to know Dysport®
Prescription Dysport ® is an injection used to temporarily improve the look of your moderate to severe frown lines without changing the look of your whole face. The untreated facial muscles still work normally, allowing you to freely show facial expressions, such as smiling, in untreated areas
Dysport® is injected directly into the muscles that cause facial wrinkles, temporarily immobilizing them. It specifically targets the glabullar muscles – the ones that form creases on your forehead when you frown.
Whenever your face makes a movement—you smile, squint or frown for instance—your facial muscles contract and the skin over those muscles creases. These are called dynamic wrinkles because they disappear when the facial movements stop. As you age and your skin loses its elasticity, those creases deepen into static, or permanent, lines and wrinkles.
Long-lasting, natural-looking results up to 4 months
For up to four entire months, you could have the look that you love. Dysport® works to block the signal from the nerve to the muscles, resulting in a reduction of muscle activity and temporarily preventing contraction of the muscles that cause frown lines. It's important to note that you should not be treated with Dysport more frequently than every 90 days.
Our board-certified Physician and Physician Assistants have knowledge and extensive experience, which means you can count on them to ensure that you are getting high quality treatment.
When it comes to treating your skin, it's important to choose a specialist who knows the latest skin care treatments. Call 727-388-6982, today to schedule your appointment and learn more about Dysport.