Laurie Nelson, ARNP
Certified Advanced Registered Nurse Practitioner located in St. Petersburg, FL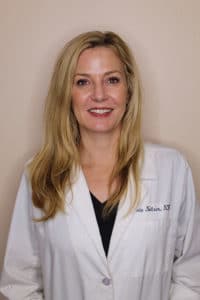 Laurie is a Dermatology Certified Advanced Registered Nurse Practitioner with over 18 years of dermatology experience. She received her Master of Science in Nursing and Bachelor of Science in Human and Organizational Development from Vanderbilt University, in 1997. She is a native Floridian and is pleased to return home and provide dermatology care to the community. Her skillful training and expanded knowledge in medical and cosmetic dermatology will prove to be an excellent fit for many of our patients. Laurie is accepting new patients and will provide dermatology care in both of our locations.
To schedule an appointment, please call our office at 727-388-6982 Option 1 or contact us using our online form.
What would you say you love the most about dermatology?
Helping people feel good about themselves and their skin.
What is your life motto?
The only person you are destined to become is the person you decide to be.
What would you say are three words to best describe you?
Honest, caring and adventurous.
What would you say is your overall best Skin Care advice?
Sunscreen, sunscreen, sunscreen!